BEE WILD! GARDEN
The BEE WILD! GARDEN is a learning garden created to attract bees, pollinating insects and wildlife to gardening sites around the school. The garden has a wild planting scheme, which works with the built car park environment and also elements from the surrounding island landscape. Through the hard work and dedication of the school community we have transformed what was, a once grass-covered, unused and uninspiring series of access spaces to the school grounds into a haven for wildlife and a new site for outdoor learning.
The site includes a rubble garden, full of bee friendly and multi-sensory planting, as well as a mix of our greatly anticipated selection of regional wild flowers. Our bug hotel designed by student Archie Walker is made from natural, reused and recycled materials. The hotel and new turf seat, along with a tire pond and trail of wild planters and borders has created new and exciting habitats for bees, animals and other insect life.
BEE BARRELS & SCHOOL VEG GARDENS
The Bee Barrels in our new school vegetable gardens have encourage pollinators to visit the site, with our first crops of vegetables arriving this summer! Our school vegetable gardens include 4 One Planet Picnic Pocket Gardens which were entered into the National One Planet Picnic Schools Competition this year, with fantastic results.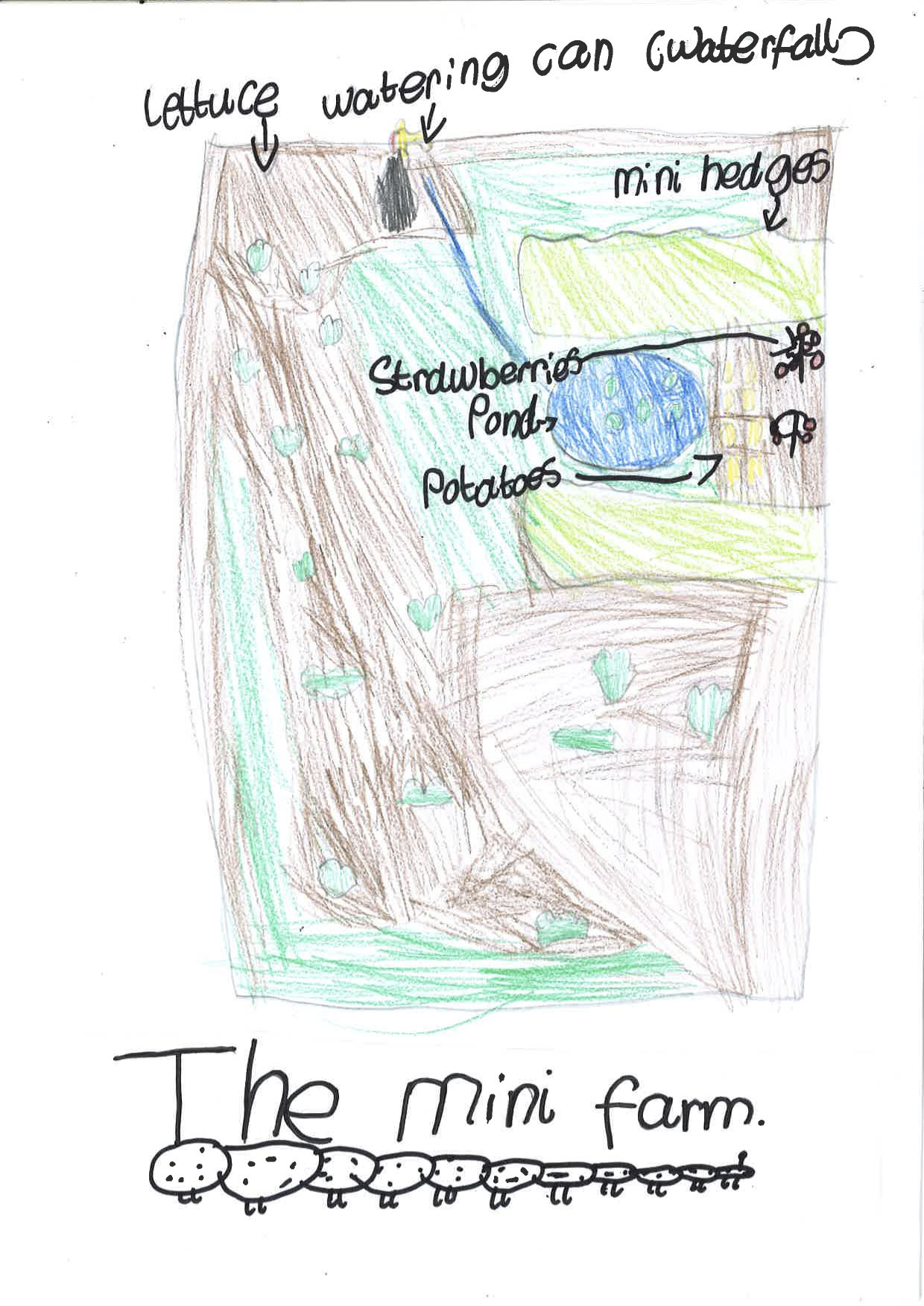 BAILEY BANNATYNE'S GIGHA GARDEN
This June Isle of Gigha School was awarded the My Favourite Pocket Garden Award at Gardening Scotland 2017 for Bailey Bannatyne's Gigha Garden. Visitors especially enjoyed how the garden encapsulated our children's love for their island and its beautiful natural heritage. Successes like this have encouraged the forming of a new School Gardening Club where families have the opportunity to learn gardening design, basic construction and horticultural skills.
Community Plant Swap
One of our Project highlights was a community Plant Swap. This event was a great opportunity for the school community to meet the wider island community, to swap plants and seedlings like for like, exchange horticultural knowledge and gardening ideas. Hosted by the Achamore Gardens Trust our mini pavilion was full of summer gardening buzz as we presented our BEE WILD! projects.
ECO FRIENDLY
Through the reuse of refuse on the original site and materials donated by the local community from across the island, our gardens have been created using 100% reused and recycled materials.
Since January 2017 Amy Wilson Arts has worked in partnership with the school to produce over 1,000 organic plants from seed, populating the school communities gardening projects with locally grown vegetables and flowers.
We eagerly await the blooming of our Grow Wild UK sponsored wild flower borders and Bee Barrels this Autumn! Our sunflowers are already in full bloom!
THE FUTURE
These gardens will be used by the school community as a site for science, sustainability, innovation and design lessons and projects. The gardens will continue to develop over time through place based learning adventures.
Our future plans aim to continue to increase biodiversity and bee friendly planting on the school grounds. The Children of Gigha are keen to keep their own bees in the near future and they will be starting a mini orchard and developing a soft fruit garden this autumn/winter.
They are keen to use the soft fruit garden and mini orchard to teach island visitors about the important role pollinators have in our community through sustaining the health and liveliness of our local gardens and wider island environment.
THANKS
The Children of Gigha are passionate and creative advocates of change and these project have created new collaborations and partnerships. They would like to thank the Isle of Gigha School Staff, Parent Council and Community, Amy Wilson director of AWA and designer of the BEE WILD! Garden, Mike Stanesby, Helen McBrearty, the Business people, farmers and gardeners on the Isle of Gigha, all those who voted for the Gigha Garden at Gardening Scotland 2017, Keep Scotland Beautiful, and our amazing sponsors Grow Wild UK, Big Lottery Fund and Kew Gardens.
This project is set to become one of many on the Isle of Gigha to inspire greater understanding, respect and love for our Earth community.
BEE WILD! PROJECT
This year, Amy Wilson Arts and Isle of Gigha School were awarded a Grow Wild Transform a Space Award for BEE WILD! our series of micro regeneration projects which aim to for fill the Children of Gigha's vision, to transform their school grounds and introduce native species of wild flowers into their community. This project series was sponsored by Grow Wild UK, Kew Gardens and the Big Lottery Fund